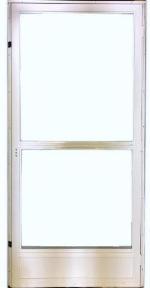 Self Storing White Aluminium Storm Doors
Specifically Designed for Mobile / Manufactured Housing.  
Doors are large, fragile items that currently cannot be shipped.  They must be picked up at our store location.
Storm Doors are designed with a flange that mounts to the outside wall of the home. This flange has a 5/8" channel that accepts the door jamb.  Conventional styling, glass slides up to allow access to screen.  
It is easy to be confused about storm door sizing.  The "Call Size" is the size of the combination door unit that the storm door fits.  The combination door unit goes by the rough opening.   We have also included measurements for the "Door Only" and "Tip to Tip" which is referring to the outside edge of the mounting flange.  Please refer to the chart to help you select the correct size.
Storm Door Latch, Hydraulic Door Closer and Check Chain must be purchased separately.


Call Size 

Door Only 
Tip to Tip 

32 x 72

30 x 71

34 x 73

32 x 76

30 x 75

34 x 77

34 x 76

32 x 75

36 x 77

34 x 80

32 x 79

36 x 81

36 x 76

34 x 75

38 x 77

36 x 80

34 x 79

38 x 81

38 x 76

36 x 75

40 x 77

38 x 80

36 x 79

40 x 81
Tyree #: 445331 (32x76, white, LH)
Tyree #: 445332 (32x76, white, RH)
Tyree #: 445631 (34x76, white, LH)
Tyree #: 445632 (34x76, white, RH)
Tyree #: 445831 (34x80, white, LH)
Tyree #: 445832 (34x80, white, RH)
Tyree #: 445931 (36x76, white, LH)
Tyree #: 445932 (36x76, white, RH)
Tyree #: 445B31 (36x80, white, LH)
Tyree #: 445B32 (36x80, white, RH)
Tyree #: 445C31 (38x76, white, LH)
Tyree #: 445C32 (38x76, white, RH)
Tyree #: 445E31 (38x80, white, LH)
Tyree #: 445E32 (38x80, white, RH) 
---
More Products in this Category