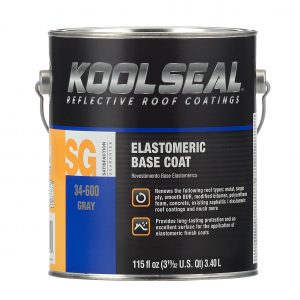 Elastomeric Base Coat
Kool Seal Elastomeric Primer is formulated with a specialized acrylic latex polyer that forms an elastomeric sealant. It is designed to perform on troublesome roof surfaces and ponded water situations. It is recommended for use on rolled roofing, bonded tar and gravel, BUR, modified bitumen and most asphaltic surfaces. It is not required or recommended for metal or coated metal roofs. The rubber-like properties that allow expansion and contraction with the roof provide an excellent surface for application of Kool Seal Premium White Elastomeric Roof Coating (63-600) or Kool Seal White Elastomeric Roof Coating (63-300).
This product is a rubberized undercoating primer and MUST BE TOPCOATED. This primer is light grey in color and is designed to improve the adhesion of elastomeric roof coatings on troublesome surfaces. Do not use on roofs with a slope of 1/2" or less per foot. Do not apply when the temperature is below 50°F or is expected to drop below 50°F before the coating has completely dried.
Choose from a 1 gallon container.
Coverage - apply two coats per the following:
BUR/asphalti surface 100-50 sq. ft. per gallon
Bonded tar & gravel 50 sq. ft. per gallon
Modified bitumen 100-50 sq. ft. per gallon
Rolled roofing 75-50 sq. ft. per gallon
Actual coverage will vary depending on porosity of surface
This product cannot be shipped, and must be picked up at our store location.
1 Gallon           Kool Seal #: 34 600-1    Tyree #: 471532
4.75 Gallon     Kool Seal #: 34 800-5   Tyree #: 471534
---
More Products in this Category