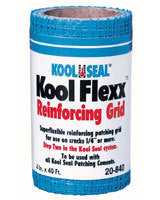 Reinforcing Patching Grid - 4 In. x 40 Ft.
Kool Seal Kool Flexx Reinforcing Grid provides a strong flexible repair that allows for expansion and contraction on all cracks, seams, and stress areas. Specifically designed to ensure cement adhesion.
Superflexible, reinforcing patching grid
Step Two in the Kool Seal system
To be used with all patching cements
4 In. x 40 Ft.
Kool Seal #: 20-840
Tyree #: 47212