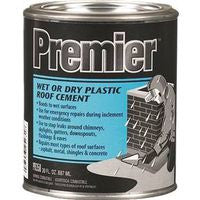 Roof Cement - Plastic - Black, Wet or Dry, 1 Quart
Premier Wet or Dry Plastic Roof Cement ia a premium grade mastic compound. This material is a blend of selected asphalts, selected fibers and petroleum solvents. This quality product is supplied in a smooth, easy working consistency which adheres to wet or dry surfaces. This product has a high resistance to weathering and provides excellent durability against the stesses and wear to which this product is normally exposed.
Premier Wet or Dry Plastic Roof Cement is especially useful for emergency repairs during inclement weather conditions and can be used for repairing leaks in composition, mineral surface cap sheet, asphalt coated, SBS modified and metal roofs, shingles, concrete, flashings, gutters, around chimneys, downspouts and eaves.
Thick consistancy, apply with putty knife
NOT for underwater applications.
Coverage: 12-1/2 sq. ft. per gallon applied 1/8" thick
(1) - 30 FL. OZ., black
Premier #: PR350
Tyree #: 471301