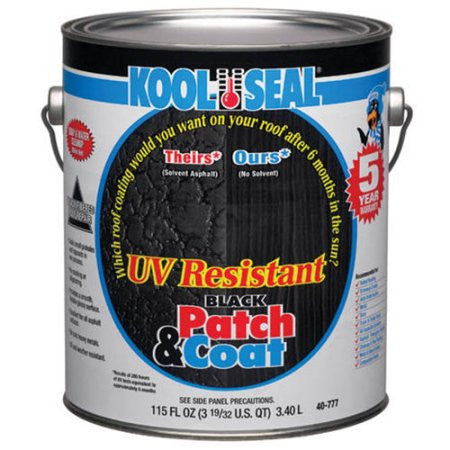 Roof Cement - Patch & Coat - UV Resistant, Black
UV Resistant Black Patch & Coat is a versatile material, specially compounded to resist the sun's ultra violet rays that will destroy other asphalt solvent based products. This zero VOC formula has been designed to apply easily in heavy coats with a brush for patching while still being readily rolled to coat roofs.  When cured it is highly water resistant and resists cracking under UV exposure. Its formulation contains no toxic heavy metal or petrochemical solvents.
5-year warranty
Zero VOC formula
Seals and topcoats in one process
No cracking or alligatoring
Provides a smooth, flexible glossy surface
Excellent for all asphalt surfaces
No toxic heavy metals
UV and weather resistant
Recommended uses: rolled roofing, driveway cracks, auto underbodies, metal, slate, truck and trailer roofs, all asphalt surfaces, asphalt / fiberglass shingles, chimney and pipe flashings, metal and wood gutters and composition roofs.
Coverage: For coating apply at 50 sq. ft. / gallon for all surfaces. For porous concrete the actual coverage may be lower.
Choose from a 1 gallon, or 4.75 gallon container.
This product cannot be shipped, and must be picked up at our store location.
1 Gallon          Kool Seal #: KSTO40777-16     Tyree #: 471352
4.75 Gallon    Kool Seal #: 40 777-5                Tyree #: 471324